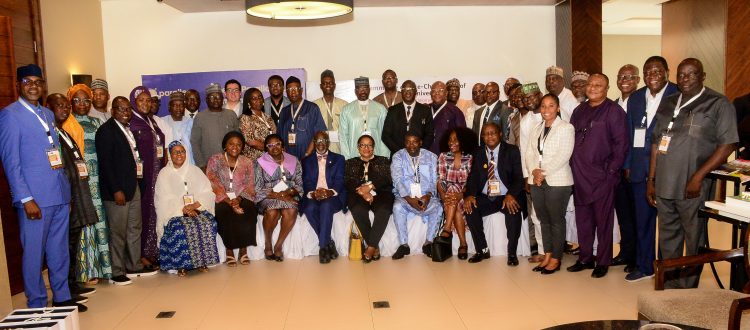 Executive Leadership Development Programme focused on Organizational Wellness for Improving Innovation and Resilience in Nigerian Universities
The Executive Leadership Development Programme, held from the 17th to the 20th of July 2023 at the Lakowe Lakes Gold Resort, Lagos, had the objective of equipping Nigerian university leaders and executives with value-based systems and strategies for a sustainable and resilient future. The workshop featured sessions from facilitators from various professional field, covering a wide range of topics.
Mr. Olumide Ajomale led a session on financial leadership and decision making in times of economic uncertainties, this session aimed to provide participants with the necessary skills and knowledge to navigate financial challenges and make informed decisions to ensure the stability and growth of their institutions.
Mrs. Vivienne Ochee Bamgboye discussed institutional wellness, emphasizing the importance of creating a healthy and supportive environment within universities, this session addressed strategies to enhance the well-being of staff and students, ultimately contributing to the overall success of the institution.
Mrs. Ojini Olaghere spoke about financial intelligence, planning, and investments towards a comfortable retirement. this session aimed to educate participants on the importance of financial planning for retirement and how to make wise investment decisions to secure their future.
The importance of digital asset investment and management in Nigerian universities and partnerships with fintech to grow revenue opportunities were also discussed in detail. This session, led by an expert in her field Ms. Yemi Keri, explored the potential benefits and challenges of digital asset investment and provided insights on how universities can leverage fintech partnerships to maximize revenue generation.
Mr. Isreal Rapheal talked about creative partnerships, highlighting the value of collaboration and strategic alliances for universities. This session provided participants with practical tips on how to forge creative partnerships that can enhance their institution's reputation and achieve mutual goals.
Mr. Chinenye Mba-Uzoukwu delivered an insightful session on expanding access to alternative global pools of funds. This session aimed to broaden participant's understanding of funding opportunities beyond traditional sources and explore ways to tap into alternative funding options.
Ms. Joy Idoko addressed the importance of physical, mental, and emotional wellness for CEOs. this session focused on strategies for self-care and stress management for executives, recognizing the demanding nature of their roles and the need for personal well-being.
The session on leveraging Will and Trust, led by Mr. Taiwo Oguntimilehin, provided participants with valuable insights into using these legal tools as strategic tools for wealth preservation. the discussion covered key elements of trust assets, the roles of grantors, trustees, and beneficiaries, and the different types of trusts that can established to manage and protect wealth. Participants learned how wills and trusts can be utilized to transfer wealth to the next generation, avoid probate, and minimize tax liabilities.
The workshop concluded with a tour of the Dangote Fertilizer Plant providing participants with a firsthand experience of a successful industrial venture. this delegation tour, led by Professor Yakubu A. Ochefu and Chaired by Professor Lilian Salami, aimed to inspire participants and showcase the potential for industrial growth and development in Nigeria.
Overall, the Executive Leadership Development Programme offered a comprehensive and diverse range of sessions, equipping Nigerian university leaders and executives with the knowledge and skills needed to navigate challenges and drive sustainable growth in their institutions.